Coconutty Caribbean Stew With Sweet Potato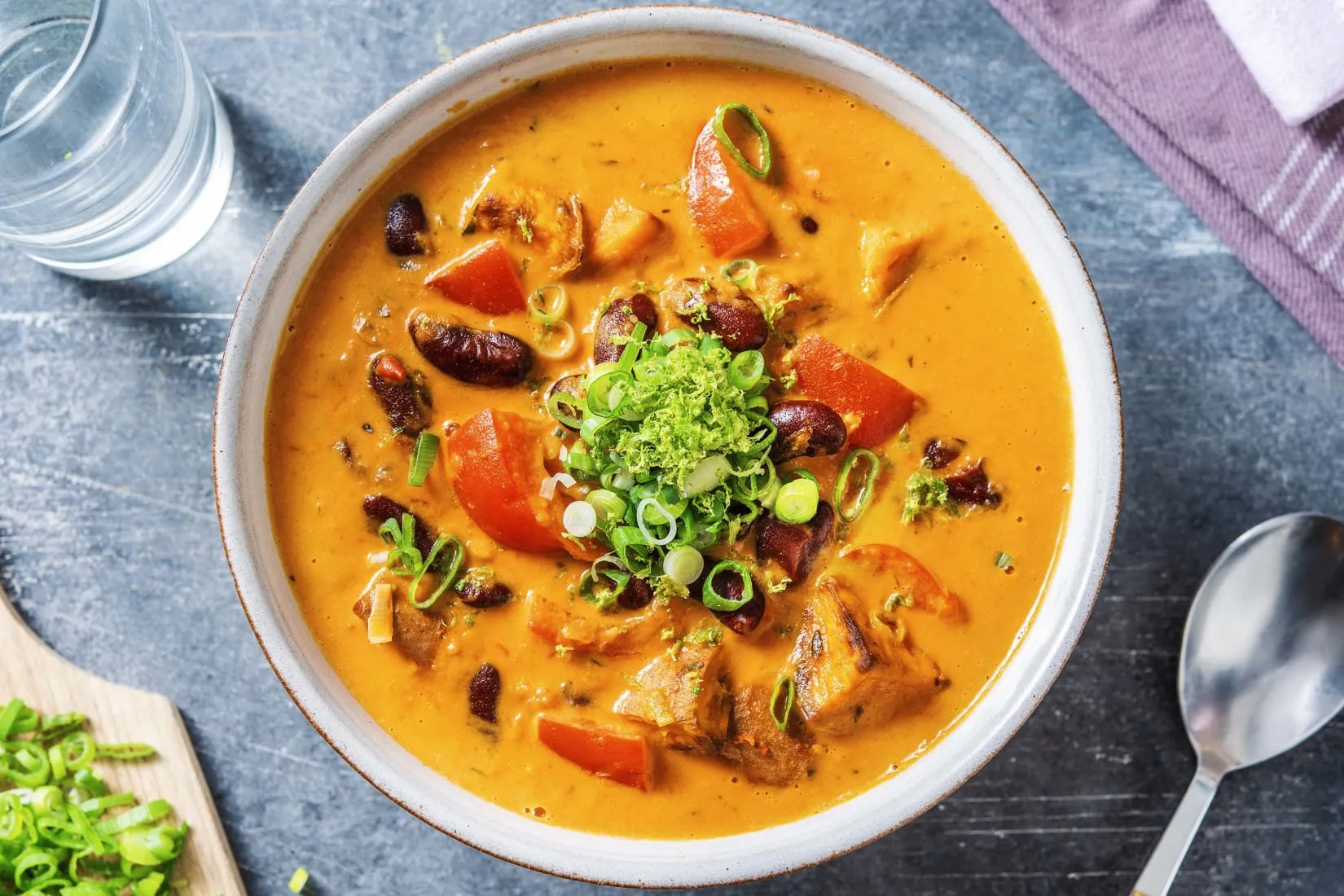 Ingredients
500 g sweet potatoes one large or two small ones
1 red bell pepper diced
400 g black beans drained and rinsed
400 g chopped tomatoes
400 mL coconut milk
3 spring onions thinly sliced
2 garlic cloves diced
10 g vegetable broth
½ lime
Preheat your oven to 200°C. Chop the sweet potato into 2cm chunks (no need to peel). Put them on a baking tray, drizzle with oil and season with salt and pepper. Sprinkle over half the Caribbean Jerk Spice, toss together, then spread out and roast in your oven until golden and cooked through, 25 minutes, turning halfway.
Meanwhile, trim and thinly slice the spring onions. Peel and grate the garlic (or use a garlic press). Halve the pepper and discard the core and seeds. Chop into small 2cm pieces. Zest and halve the lime. Drain and rinse the black beans in a sieve.
Heat a drizzle of oil in a saucepan on medium heat. Add half the spring onion and fry until softened, 2-3 mins. Add the pepper and cook, stirring, for 4-5 more minutes. Once the pepper has softened slightly, stir in the garlic and Poudre de Columbo. Cook for 30 seconds, then add black beans and chopped tomatoes.
Add the water to the pan. Stir in the coconut milk and vegetable stock powder. Season salt and pepper and bring the soup to a gentle simmer. Stir together and cook until thickened, 10-12 mins.
Once the soup is lovely, tomatoey and rich, remove it from the heat, stir in the roasted sweet potatoes and squeeze in half the lime juice. Taste and add more lime juice, salt and pepper if you feel it needs it.
Serve your Caribbean soup with the remaining spring onions and the lime zest sprinkled on top. Enjoy!
Published on .
Adapted from a recipe by HelloFresh .