Polenta With Fresh Corn and Braised Eggs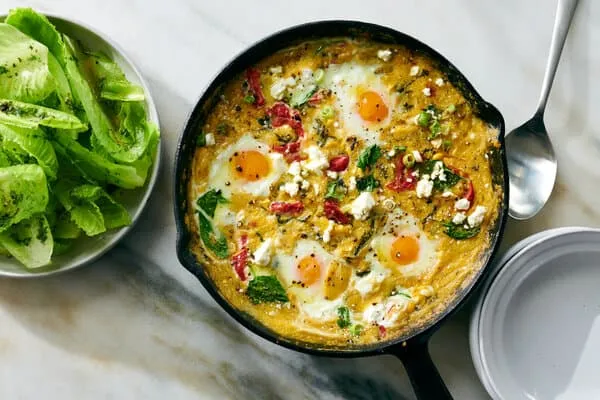 Ingredients
250 g corn kernels fresh or defrosted if frozen
200 g baby spinach roughly shredded
10 g parsley roughly chopped
10 g dill roughly chopped
20 g cilantro roughly chopped, plus an extra tbsp
4 spring onions finely sliced (60g), plus an extra 2 tbsp
4 garlic cloves crushed
150 g polenta (cornmeal), coarse, not the quick-cook variety
50 g parmesan finely grated
520 mL milk
450 mL vegetable broth alternatively chicken stock
40 g butter cut into 2cm cubes
150 g feta roughly crumbled
8 eggs
2 Tbsp olive oil
½ tsp chili flakes
salt
pepper
Preheat the oven to 180°C fan.
Put the corn into a food processor and pulse once or twice, until just roughly chopped, then transfer to a large bowl. Add the spinach, herbs, spring onions, garlic, coarse polenta, Parmesan, 1.5 tsp of salt and a good grind of pepper, stirring to combine. Put this mixture into a large, high-sided ovenproof sauté pan, then add the milk, stock and butter, stirring to mix through. Bake for 20 minutes then remove from the oven and give everything a good whisk before returning it to the oven for another 20 minutes or until the cornmeal is cooked through and the mixture has thickened. Give the polenta a good whisk - it should be smooth and not completely set - then stir in half the feta. Increase the oven temperature to 200°C fan.
Make eight wells in the polenta, cracking an egg into each and sprinkling lightly with salt and pepper. Sprinkle over the remaining feta and return to the oven for 12 minutes or until the whites are cooked and the yolks are still runny.
Meanwhile, combine the extra coriander and spring onion in a bowl with the oil. Spoon this mixture all over the polenta once ready to serve, followed by a sprinkling of the chilli. Serve at once.